LIV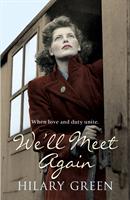 ERPOOL 1942.
Seventeen-year-old Frankie Franconi falls in love with charismatic British officer Nick Harper as quickly and certainly as the bomb that falls on their shelter.
He is impressed by her good looks and intelligence, and the fact that, like him, she speaks fluent Italian. When she insists on staying to help rescue others who have been trapped he realises she has courage, too. He gives her a business card with a Baker Street address, and suggests she put her skills to good use.
Within a month Frankie has joined the FANY and started her training. Stationed first in England, then Africa and finally Italy, Frankie and her fellow recruits work tirelessly decoding messages from agents in the field by day and enjoying wartime parties at night. But when she signs the Official Secrets Act Frankie has no idea of the danger, adventure and terrible choices that are in store.